How to Spend 3 Days in Bangkok with TAGTHAi's City Pass
TAGTHAi gives you access to Bangkok attractions for an affordable flat fee. Enjoy three days in Bangkok and benefit from all the City Pass offers.
17 November 2022
7 min read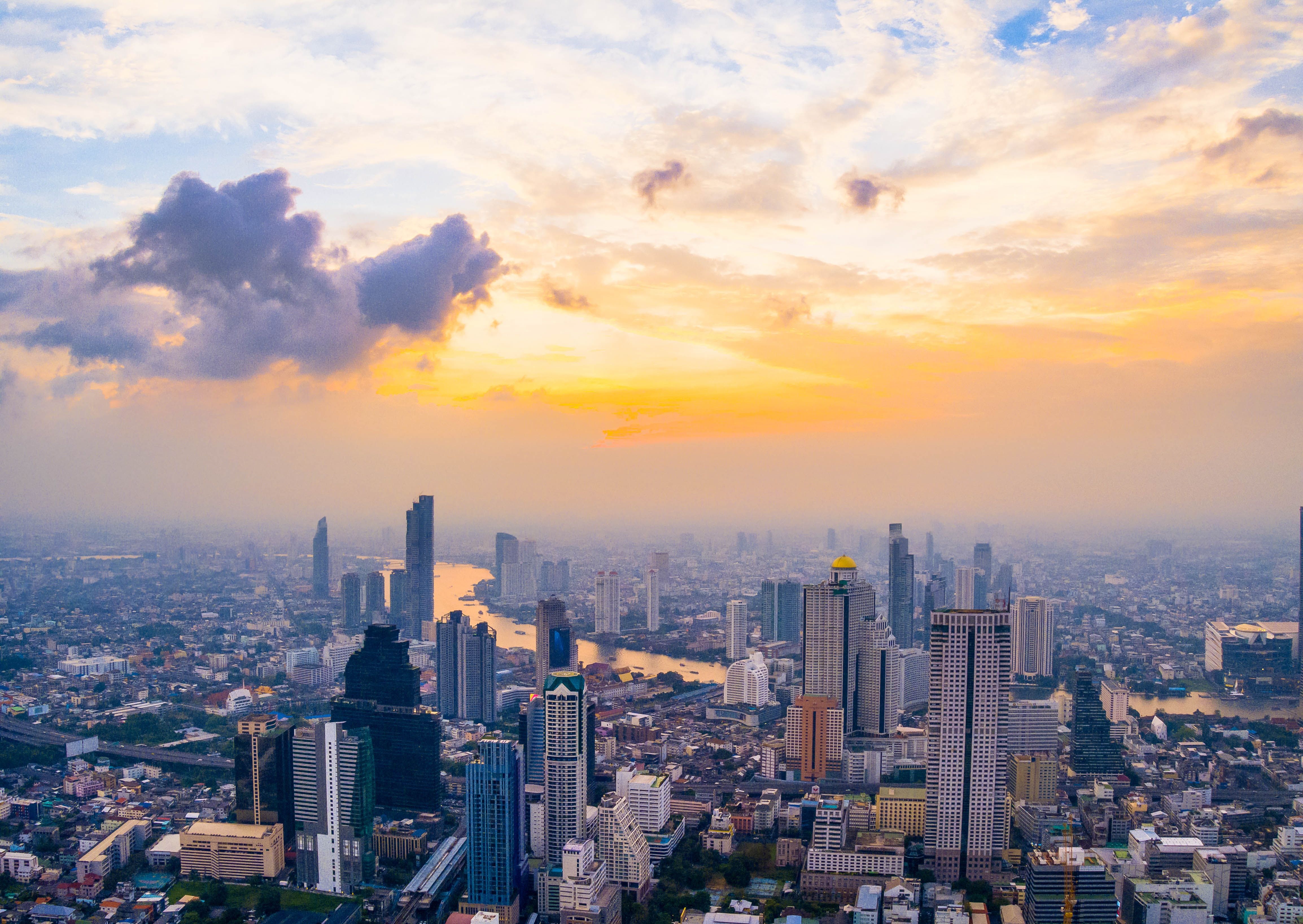 "One Night in Bangkok," as Murray Head's chorus goes, would be a rushed adventure. Yet, even a month wouldn't be long enough to see everything. Floating markets where time stands still, golden temples sparkling in the sunlight, and birds-eye-views from rooftop bars have you fretting over the perfect Bangkok itinerary. Relax. With TAGTHAi's City Pass, you'll make the most of your time in the capital. Whether you like glittering temples, thrilling VR worlds, or hair-raising skywalks – here's how to spend three days in Bangkok.
---
Day 1
Experience Wat Suthat – Perhaps a Future World Heritage Site (value: $2.68)
Lap up the morning sun as you walk to the Old Town's Wat Suthat. Wat Suthat Thepwararam, one of Bangkok's oldest Buddhist temples, is known as the Temple of the Giant Swing because of the 21-meter-tall teak swing in front.
It's on 10 gorgeous acres surrounded by Chinese stone carvings and eight-tiered hexagonal pagodas. The chapel is guarded by a long row of golden Buddha statues, and the temple reflects on the marble floor of the courtyard. In short: it's a sight to behold.
To access the temple complex, produce your unique QR code and proof of your reservation that you've made in the TAGTHAi app.
Have Lunch at The Seafood Cafe & Restaurant (value: $9.37)
Approach this seafood restaurant in Chinatown, and the brick façade will catch your eye. The industrial look continues inside, with brick structures connecting you and Chinatown – one of Bangkok's oldest neighborhoods.
One of the must-try Bangkok restaurants, this three-story building serves juicy prawns and shrimp with Pad Thai noodles. The scallops, crabs, and incredibly fresh oysters that come with a spicy sauce are also worth trying. Make a reservation in the TAGTHAi app to ensure the food you crave is available.


Feel Like Walking in the Air at King Power Mahanakhon SkyWalk (value: $12.08 - $23.61)
Looking up at King Power Mahanakhon 314 meters above the city, you can't help noticing the resemblance to Tetris, Nintendo's tile-matching video game. Thailand's tallest tower waves at you from all sides, ensuring you remember to stop by while in Bangkok.
Getting off the elevator on the 78th floor, you're steps away from the 360° observation terrace. Line up once you're prepared for the thrill that comes next. Three hundred and 10 meters above the ground, the only barrier between you and the void below is a shiver-inducing glass deck.

Don't like queuing up for your ticket? With your TAGTHAi QR Code, you can skip the rows and enjoy Bangkok adventures immediately.
---
Day 2
Book a Sightseeing Tour on a Tuk-Tuk (value: $10.73)
Aside from market merchants transporting bulky goods, Thai nationals rarely use tuk-tuks. This is probably because the motorized three-wheel taxis aren't metered. Yet, they're loud and exciting! Imagine fragrant jasmine and tangy smells from street kitchens while a warm wind tousles your hair.
Not among the best things to do in Bangkok for the faint of heart, tuk-tuk rides are part of the Bangkok experience.
Riding around Rattanakosin Island will give you a flavor of Thai history. It's near the Chao Phraya River and religious monuments like the expansive Wat Pho temple complex, famous for its golden, 46-meter-long, and 15-meter-tall Reclining Buddha.
In the same area, you'll find the Yodpiman Flower Market. It's open around the clock. Wat Benchamabophit Dusitvanaram, commonly known as the marble temple, is nearby.
Fuel Up at Coca Restaurant (value: $9.02)
COCA, one of the best restaurants in Bangkok, is well-known for its hot pot. You'll find the restaurant inside Central World, a mega mall in the Pathum Wan area.
Since the era of steamboats, COCA has established a reputation and has more than 60 years of experience. Formerly a restaurant with 20 seats, it's now a brand on a global scale.
The TAGTHAi app lets you reserve various sets. Set B contains a deep-fried dough stick, a glass of cold, brewed green tea, and Thai Sukiyaki with pork. A sukiyaki dish is made and served in a Japanese hot pot.
Are you a vegetarian? Vegetarian food is available. Enjoy!
Play Thrilling Games at Bangkok's VR Arcade
Dive into a different world after lunch at one of the many establishments you can visit with the TAGTHAi City Pass. Total VR, Bangkok's first VR arcade, sits in the Japanese-themed community mall, Gateway Ekkamai.
Be warned your kids will not want to leave after a Fruit Ninja game. Adults get their money's worth on Google Earth's virtual streets of Tokyo. Picture yourself soaring above the Amazon or strolling around the Eiffel Tower. Three days in Bangkok have to include a visit to the VR Arcade.
---
Day 3
Hop on a Chao Phraya River Tourist Boat (value: $4.03)
Getting on and off the Chao Phraya Tourist Boat is a practical way to tour the riverbank. Escaping busy streets, you'll feel the wind in your hair as you pass memorable landmarks. An English-speaking guide will show you sights like the pyramid-shaped Wat Arun. The 70-meter-high Temple of Dawn is coated in glass and Chinese porcelain.
Unlike other boats, the blue-flag tourist boat isn't crowded, making it ideal for solo travelers and families alike. Wondering where to get off? The tourist boat stops at Oriental Pier at ICONSIAM, an eleven-story shopping complex. If you visit ICONSIAM, be sure to stop by Baan Khanitha The Heritage for organic mango and spicy shrimp dip with crispy catfish.
Baan Khanitha accepts the City Pass. You'll find the restaurant on the fourth floor of ICONSIAM, Bangkok's largest riverside mall that offers fantastic views of the Chao Phraya River.
Eat Lunch at Baan Khanitha & Gallery Sathorn ($6.71 - $12.08)
Another Baan Khanitha branch lies in the Sathorn area. Established in 1993, Baan Khanitha & Gallery still exudes the allure of the grand past. Everything has a unique touch thanks to Khun Khanitha Akaranitikul, who founded Baan (Home) Khanitha when you could only find good eateries in hotels.
Step inside, and you'll marvel at the dining hall made of wood and exposed ceiling beams. Thai-style artwork and wrought-iron chairs are a visual delight, yet the chandeliers add a Victorian twist.
Miss Khanitha turns up in the Sathorn branch every afternoon except on weekends. She considers that part of her job. To guarantee quality food with a delicious taste, she closely monitors her farm in Khao Yai, where all the organic vegetables come from.
Undoubtedly, Baan Khanitha is an excellent eating establishment.
Complete Your 3-Day Itinerary at VELA Rooftop Bar (value: $10.73 - $12.08)
Make your way to VELA Rooftop Bar come dusk. Conveniently located at BTS Sanam Pao, it's the ideal spot to enjoy a whiskey or two, meet new people, and soak up the laid-back atmosphere.
The chef called Bus isn't unknown. He participated in the Thai reality TV series "Top Chef Thailand Season 1" and was among the four best candidates. Offering fried and grilled appetizers, steak, spicy and non-spicy salads, and soups, he ensures you get the "Thai Taste Twist."
Experience three days in Bangkok with TAGTHAi, and you can forget about multiple entry fees and tickets.



Don't forget to apply 'HAPPY23' for 20% Special Promotion Code to enjoy TAGTHAi City Pass!