Chiang Mai Premium Pass
Enjoy the self-made itinerary with our popular all inclusive vacation Pass in Chiang Mai. Get excited to explore top selected sightseeings and activities through this special Thailand's package while touring this beautiful city at your own pace.

Take a fun journey to nature for the ethical elephant sanctuary visit and town discovery. Treat yourself to the comfort of the local relaxing Thai massage and spa. And discover some of the best dining restaurants in Chiang Mai set in an ambient setting.

If you are looking to a new excursion experiences, this one day trip of Chiang Mai Day Pass should definitely be on your top list to consider how you want the incredible beauty of northern Thailand to cherish your memory!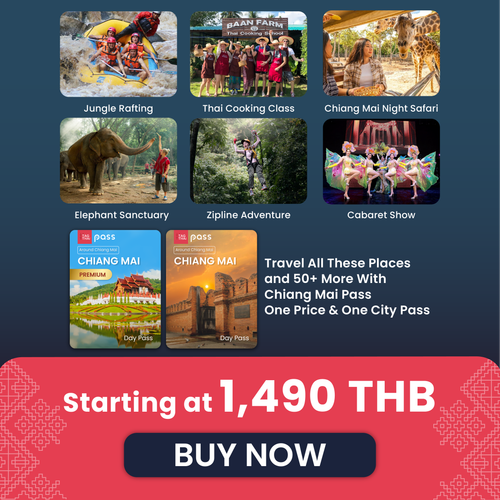 What You Can Get (94)
Enjoy 5% off
on your first purchase
with TPASS5
Enjoy 5% off
on your first purchase with TPASS5
Recommended Itinerary
Maximize your your Chiang Mai journey with Chiang Mai Premium Pass
---
Total price without Pass0.00 USD
Chiang Mai Premium Pass
81.83 USD
You SAVE 0.00 %SAVE ~0.00 USD
The USD price may slightly change due to the currency exchange rate.
FAQ
Do I need to make a reservation?
---
Map / Route
Condition
1. This Pass is valid upon activation and will expire at 11:59 p.m. on the last day (depending on the Pass duration).
2. This Pass cannot be exchanged for cash.
3. This Pass cannot be refunded.
4. You can redeem everything included in this Pass (one redemption per one shop/activity/attraction only).
5. TAGTHAi reserves the right to change the conditions without prior notice.
6. Pass is valid for 365 days before activate