Why You Need the City Pass When You Travel to Pattaya
Going to Pattaya? Aside from the bars and massages, do check out the cultural shows, museums, and waterparks, too – they're all included in the Pattaya Day Pass.
04 August 2023
6 min read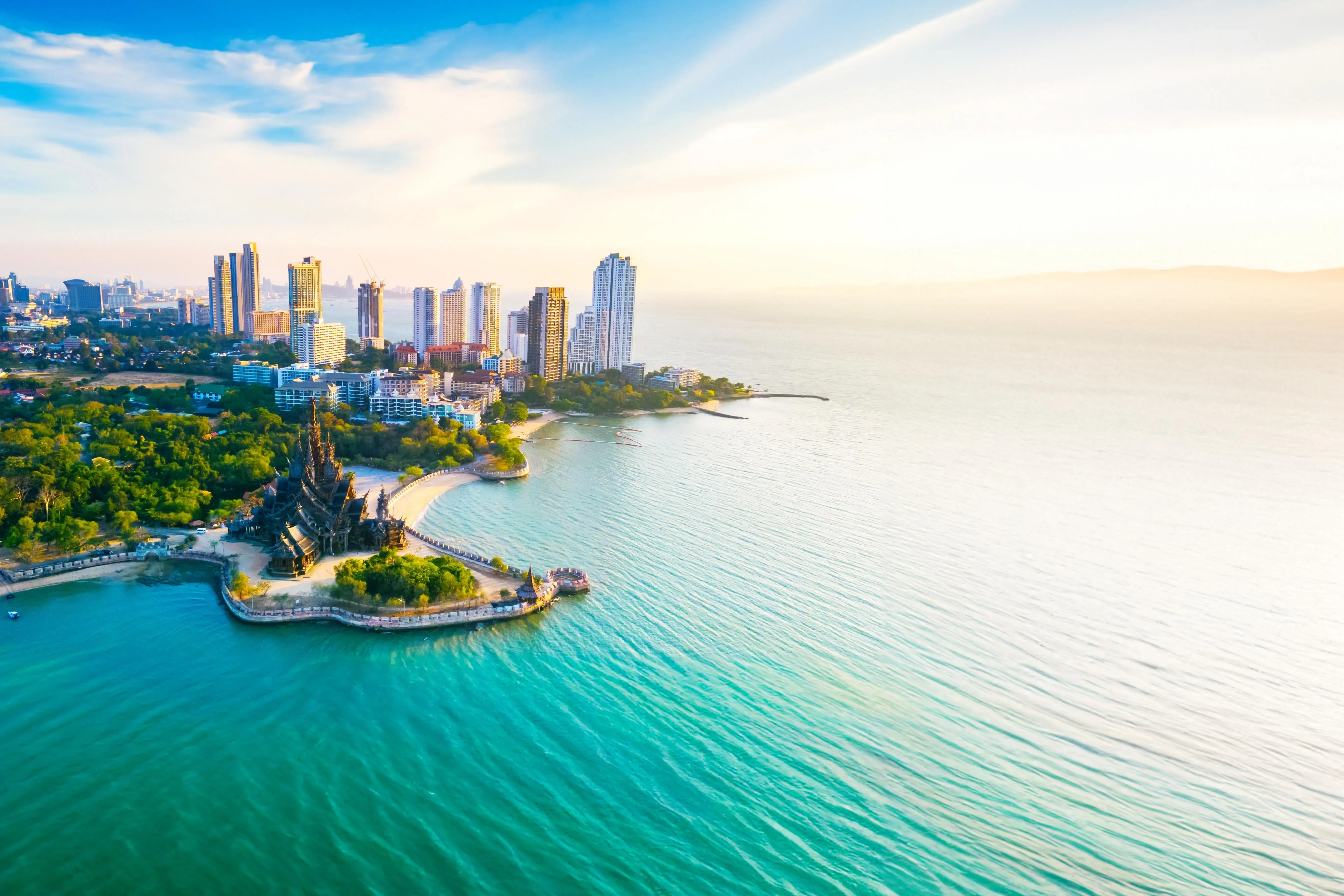 Pattaya is said to be the second most popular city in Thailand after Bangkok – a place for night owls and hedonists. And we're not denying Pattaya offers ebullient nightlife. But beyond the all-night parties, there are waterparks with hair-raising slides, cultural shows, tropical gardens, and sun-splashed beaches. While that can be heavy on your pocket if you pay for every single attraction, it doesn't have to be. Here are reasons why you need TAGTHAi's City Pass when you travel to Pattaya.
---
It Costs So Little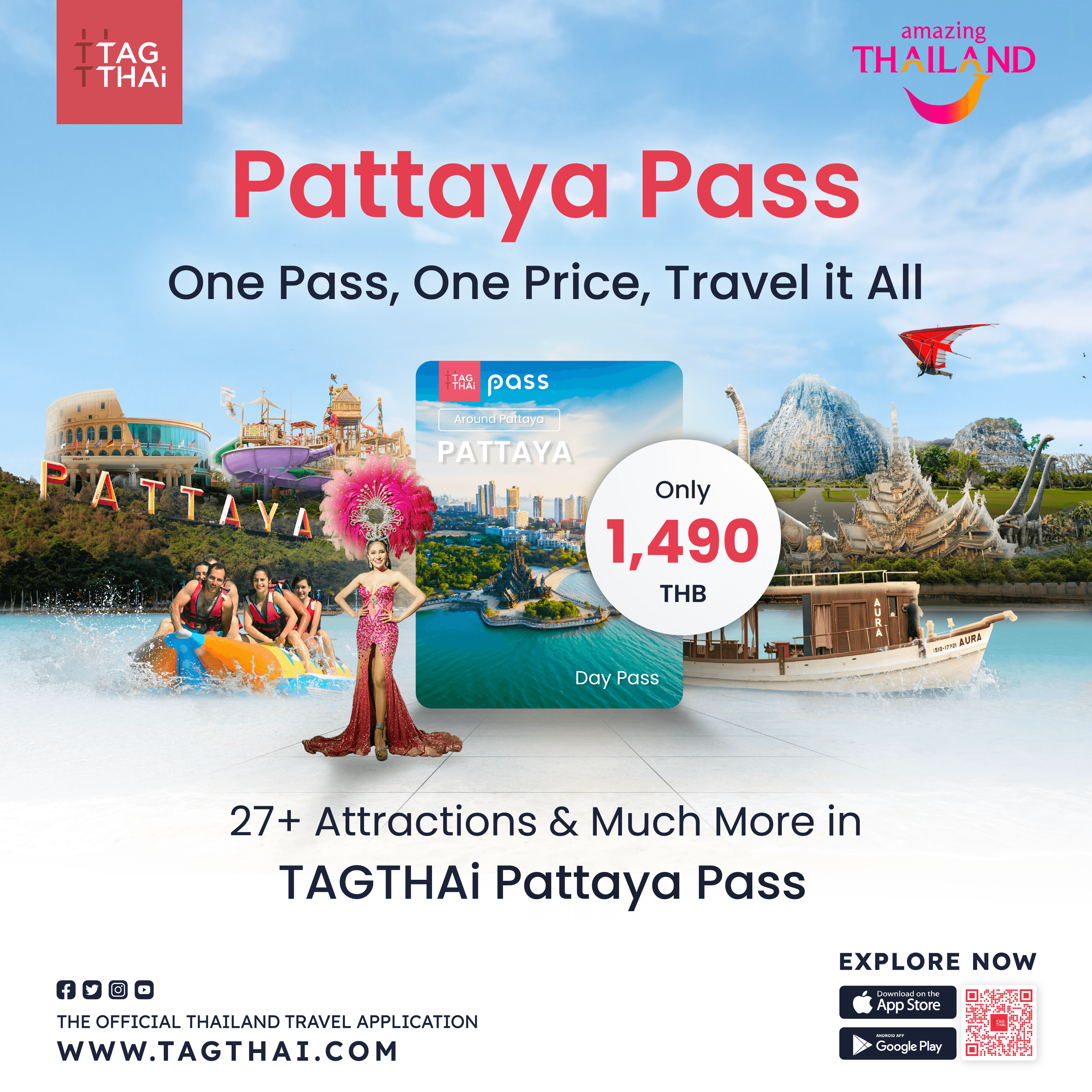 The Pattaya Day Pass, also called City Pass, saves you hundreds of dollars because you pay a flat fee of only $43 and get access to 27+ attractions. Foodies, culture buffs, adventurers, and relaxation-seekers will all be spoiled for choice.
---
Using It Is Child's Play
Do you get fidgety when queueing up to get an entry ticket? Picture how it would feel if you could skip the row with no one even raising an eyebrow. You can do just that if you're traveling with the City Pass. Scan your QR code at the entrance and walk in. Some attractions require a reservation beforehand, but basically, that's all there is to it. Scan within seconds and get in.
---
TAGTHAi Has Partnered with Numerous Restaurants, Cafes, and Bars
Ordinary Coffee X The Now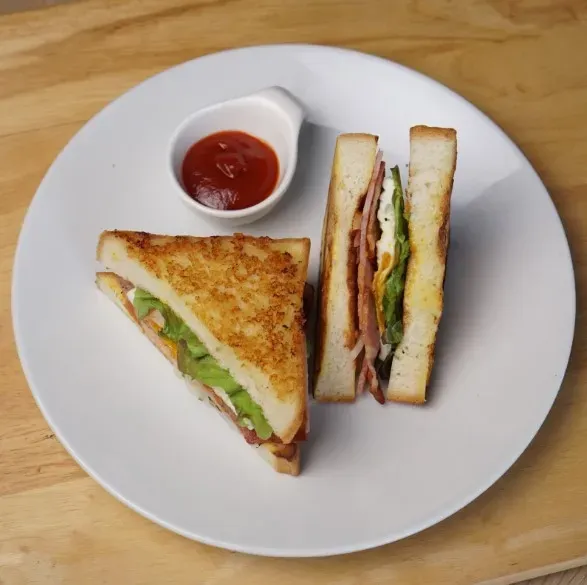 Relax with a cup of joe in hand on Ordinary Coffee's second story for the best sea view in Pattaya; the terrace overlooks the beach. Situated at Jomtien Beach, the Ordinary Coffee X The Now isn't directly where most tourists go first and, therefore, less crowded.
This cafe takes coffee culture seriously. The guys use a La Marzocco machine, and you can choose your coffee kind and brew technique, whether you like origin or blended. Pour-over coffee, aero press, and other unusual alternatives are available. What about a delicious flat white? Whether you're a solo traveler or a coffee lover traveling with friends, the barista is pleased to talk about his coffee, commenting on the distinct flavors of his beans.
TAGTHAi offers various benefits at the Ordinary Coffee, e.g., a crunchy toast sandwich with ham and cheese, a fried egg, and Italian soda. Another option is scrambled eggs with gammon, bacon, and rice topped with sausage slices.
---
CHAAM.PTYA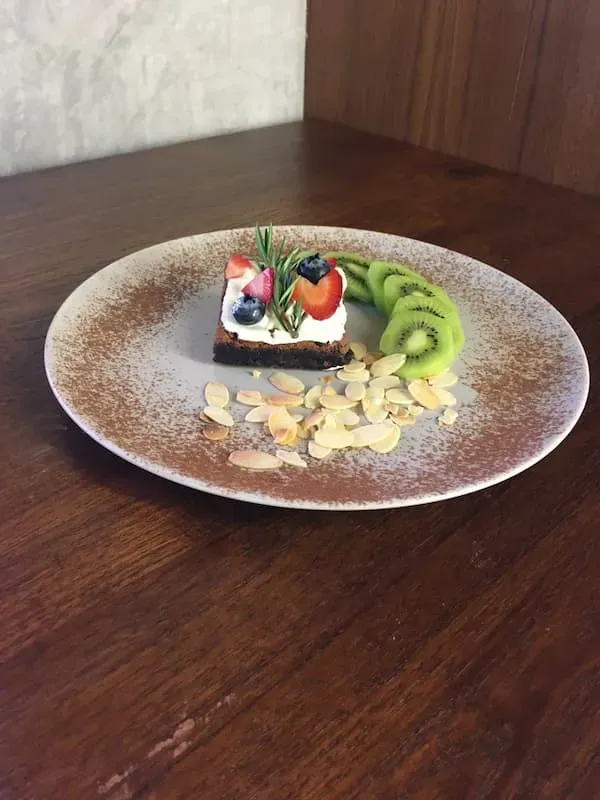 Wondering what to do in Pattaya? You'll probably run into CHAAM.PTYA on your way back from the beach. It's located on Pattaya 13 Alley and is well worth a visit, not only because of its contemporary wood look that compares favorably with the surrounding buildings. For some coffee lovers, CHAAM.PTYA is the best coffee shop in Pattaya.
The frothy Caramel Macchiato with a blend of smooth vanilla and velvety caramel is a delectable treat, especially when drizzled with caramel. Piccolo Latte – freshly roasted coffee with a single ristretto shot delivered in a demitasse glass and filled with steamed, latte-like milk – is just as tasty. Of course, an Americano served in pottery will also wake your senses.
Interior-wise, it's a clean, minimalist Japanese environment with a cool ambiance enhanced by diffused lighting and low-volume music. Looking for Instagram spots? CHAAM.PTYA's nooks and crannies make it an ideal place to snap pictures. You can also hire picnic mats from the cafe owners and sit on the beach.
The TAGTHAi benefits at this cafe include various sets. Set A, a slow-baked brownie comes with affogato, an Italian coffee-based dessert taking the form of a plain, milk-flavored vanilla gelato or ice cream drowned in a hot espresso shot.
---
Several Attractions Are Included in the Pattaya Day Pass
Ramayana Waterpark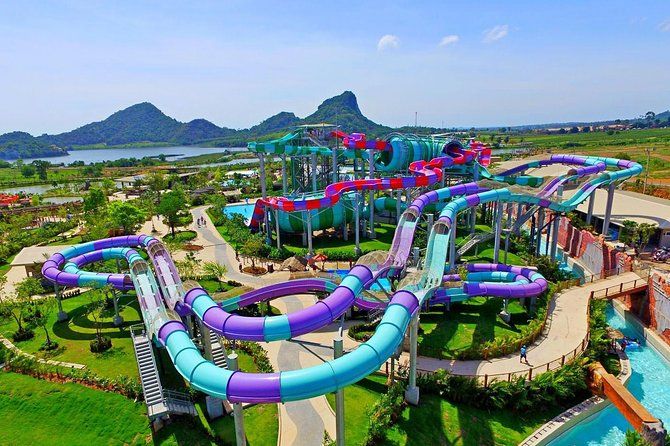 Ramayana Waterpark is another benefit you get with TAGTHAi's Pattaya Pass. A one-day entry ticket to Ramayana would set you back $32 without it.
More than splashing time with kids, a day in Pattaya is great fun at the 160,000-square-meter Ramayana Waterpark. Set in an ancient city amid green hills and gurgling rivers, the Ramayana Waterpark sits just 20 kilometers south of Pattaya's city center. Ruins and collapsing walls provide the narrative of this long-forgotten city – and the perfect theme for Thailand's largest waterpark.
Nail-biting legends and myths at the four themed zones are a hit with kids. With its ultra-fast waterslides and three wave pools producing swells that carry you to the 160m beach, Ramayana is one of the best things to do in Pattaya.
Wondering about creature comforts? Slurp drinks at the pool bar or visit the floating market for authentic Thai food. The wristband system works flawlessly.
---
Dolphinarium Pattaya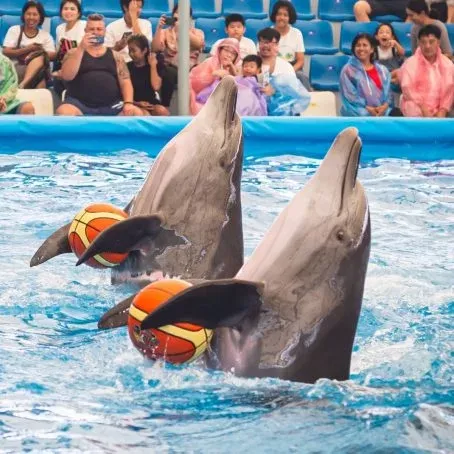 Home to incredibly clever, acrobatic Bottlenose Dolphins and South American seals, The Dolphinarium Pattaya scores with exciting shows. Picture these aquatic athletes jumping off rings, dancing, and playfully swimming through self-made bubble rings. You can also watch them paint and even touch the dolphins as you pose for a picture.
And the romantic seals display affection for each other openly. The trainers work effectively with both the seals and the dolphins, ensuring amazing jumps and gymnastic performances.
Two other attractions included in the City Pass are the Colosseum Show Pattaya and Nong Nooch Tropical Garden. The Colosseum Show is Thailand's largest cabaret show, alluring visitors with rattling sequins and sparkling feather costumes. More chilled-out are the botanical gardens, set on 500 beautiful acres, where eye-catching topiary and Jurassic Park-reminiscent dinosaurs await.
---
Massages Parlors in Pattaya Are Great to Relax
Kanenoyu Hotstone Spa by Gold Finger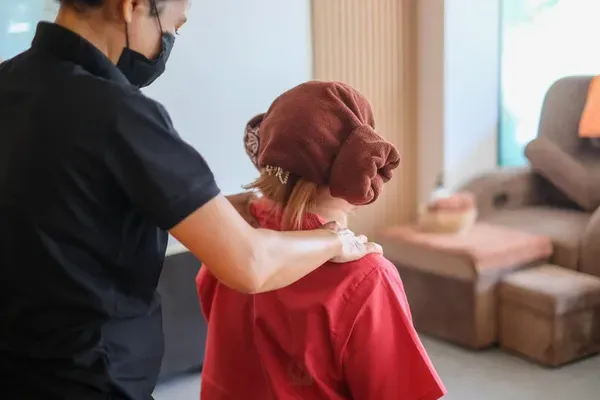 If you travel to Pattaya, you've got to visit Kanenoyu Hotstone Spa. One of Pattaya's oldest spas, Kanenoyu elevates the spa experience. The Gambanyoku Set includes a Japanese hot stone spa, inviting you to kick back as long as you want. You can also opt for a two-hour Thai or foot reflexology massage. Treating specific pressure points, the foot, and Thai massage instantly reduces tension. And if you choose a two-hour oil massage, you can rest assured the therapist will send you off to the and of nod as they apply warm aromatic oil to your skin.
The Pattaya Day Pass offers all this for a budget-friendly flat price of $43.



Need some more ideas before you travel to Pattaya? Check out our

latest blog posts here.