How to Spend 3 Days Phuket Itinerary with TAGTHAi's City Pass
TAGTHAi gives you access to Phuket Itinerary for a low-priced flat fee. Get your money's worth with the three days in Phuket City Pass.
10 November 2022
7 min read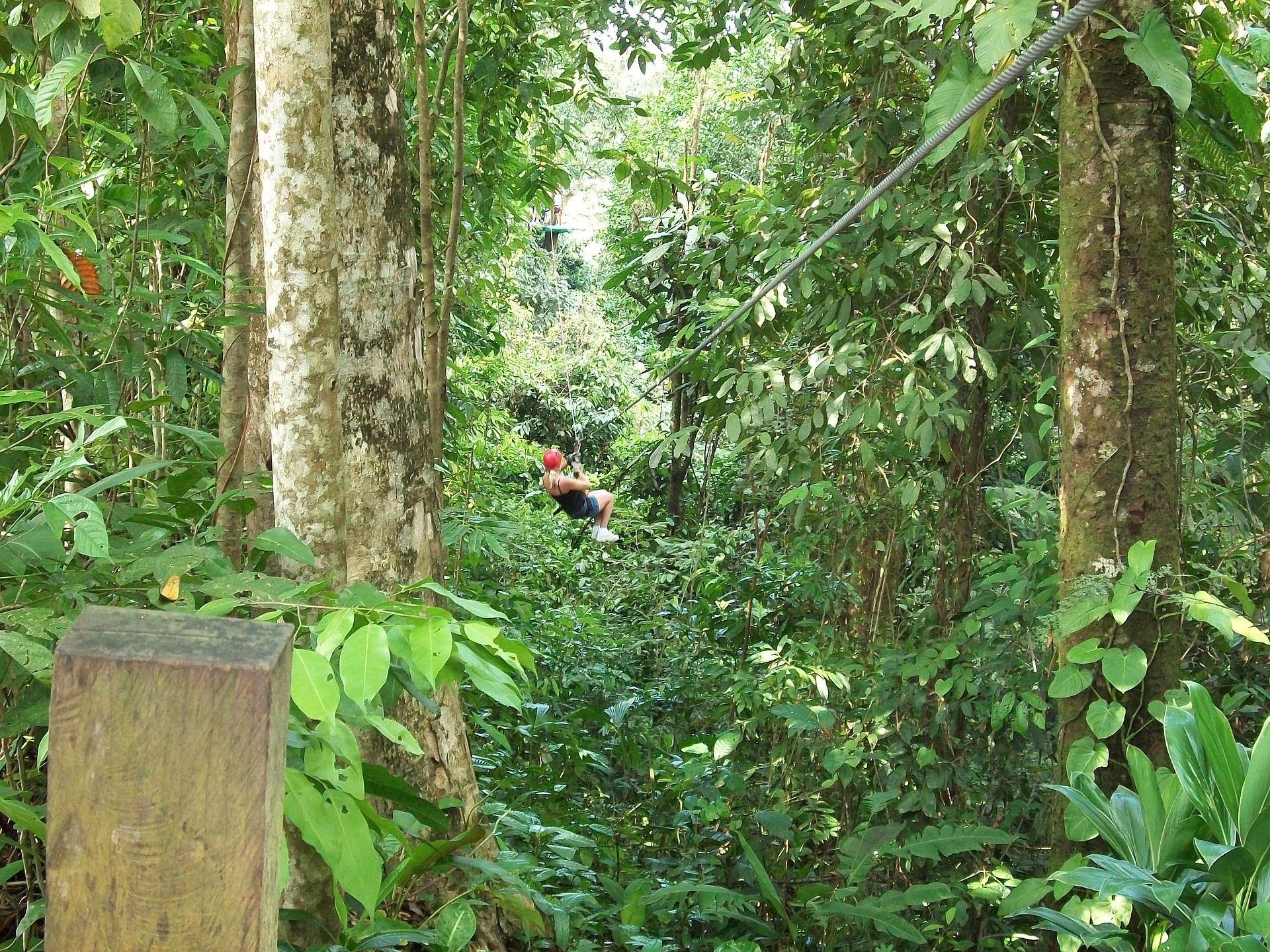 Flying through the jungle at 50mph, strapped in a harness suspended from a pulley; getting wet and messy during a mud bath with elephants; or working on your tan on a catamaran to Koh Hey, aka Coral Island near Phuket – all this and more is what you get for a paltry flat fee as low as $85.89. Jump in and discover how to spend three days Phuket Itinerary with TAGTHAi. Getting your money's worth has never been easier.
---
Day 1
Have Fun with Elephants at Phuket Eco Elephant Park (value: $31.71)
Open daily from 8.30am to 5pm, Phuket Eco Elephant Park in the Cherngtalay area near Surin Beach limits the number of visitors to 60. There's no riding here as this is an ethical elephant park, but taking a mud bath with these adorable giants is just as fun. Picture yourself and your water babies wallowing in brown water with them, hearing them purr like cats – just don't wear your nicest outfit.
Whether you like to get wet and messy, groom elephants in the freshwater pool, or watch them eat shrubs in their natural surroundings – the Eco Elephant Park is one of the most exciting things to do in Phuket Itinerary.
Fuel Up at Sugar Dark Cafe (value: $5.13 – $5.66)
One of the numerous benefits of the Phuket City Pass, Sugar Dark Cafe is a coffee and dessert specialist near The Central Shopping mall. Feast on waffle towers and Bingsu, a Korean-inspired ice cream delicacy with sweet toppings like durian chunks, syrup, condensed milk, or red beans.
Equally delicious is mango- and chocolate-flavored shaved ice, irresistible brownies, or honey toast even the fictional bear Winnie the Pooh would immediately fall on.
Jump into the Crystal Water of Koh Hey near Phuket (value: $31.71 - $39.64)
A 15-minute boat ride from Phuket is Koh Hey, popularly referred to as Coral Island. The granite islet, only two-and-a-half kilometers long and lushly vegetated, makes for a perfect day trip from Phuket Itinerary. Whether you're a laid-back beach bum or an active traveler, you'll love the island's brilliant white sand and amazonite water.
Lounge in a hammock beneath a cashew tree, enjoy a coconut milkshake and listen to the waves lapping the shore. You can also let the hours slip past gently on one of the deck chairs on the beach; creature comforts are available.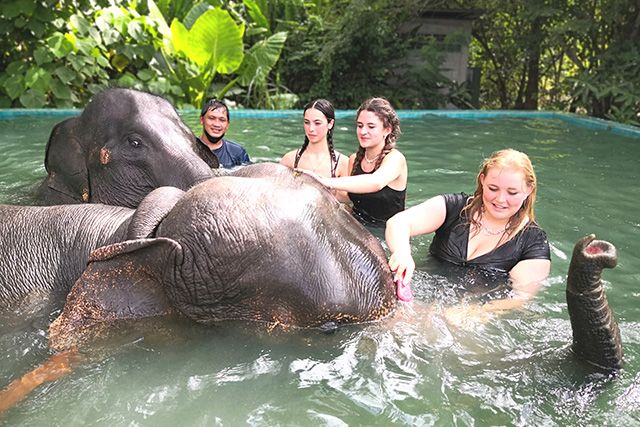 ---
Day 2
Feed Elephants at Phuket's Ethical Elephant Jungle Sanctuary (value: $23.78)
What to do in Phuket? Open daily from 8am to 5pm, Phuket's Elephant Jungle Sanctuary in Kathu was the first business to open on the island. A knowledgeable English-speaking guide offers you a tour of the facilities upon arrival. Aside from learning about animal welfare programs, you'll gain insights into the history and behavior of elephants.
While riding is a big no-no, you can feed them here. Imagine elephants using their two fleshy "fingers" that protrude from the ends of their long, hefty trunks to deftly pick herbs, shrubs, bark, or fruits off your hand.

Want to spend more time with them? Book an overnight stay in a super-luxe, safari-style tent through TAGTHAi. Views of the rainforest and beaches in the distance make this elephant and glamping adventure in Phuket well worth it.

Eat Halal Food at Yum Saab Ver (value $6.08)
Hungry after a morning with elephants? Yum Saab Ver, situated near Phuket Old Town in front of Rajabhat University, is a modest, authentic Thai restaurant with seating for roughly 20 people. The interior is sparsely furnished with brown sofas, artificial grass mats, and a quirky chandelier that adds to the eccentric mix.
Sit down on spherical, cushioned containers, and devour Halal food from the a la carte menu, like fried salmon belly, or order Yum Saab Ver, which translates to very delicious salad.
Get an Adrenaline Rush at Hanuman World Zipline Adventures (value: $65.80)
Looking for a Phuket adventure? Open until 5pm, Hanuman World will give you a thrill. Dangling from a pulley in a harness, high above hillsides, you'll fly through the jungle at 50 mph. If you can handle the adrenaline, ride the insane roller coaster zip line. You'll be shouting at the top of your voice as you get close to almost vertical loops and spirals, flying through the rainforest at hair-raising speed for two minutes.
Aside from 16 ziplines, Hanuman World boasts 32 platforms, three abseils, two spiral stairs, and one honeymoon sling.
Enjoy a Massage at Sansabai (value: $9.25 - $11.89)
Sansabai has two branches in Phuket, one in Phuket Town and the other in the Patong neighborhood. Sansabai in the lively Patong area sits right across from Jungceylon Shopping Mall. As soon as you enter this clean and professional establishment, you'll smell the fresh Thai herbs the therapists use for herbal compress massages.
Just as soothing is a head, neck, shoulder, and back massage you can get while sitting in a leather chair. Ask for deeper pressure if the medium pressure is too light. If you make a reservation in the TAGTHAi app, you can also get a Thai massage that combines acupressure, compression, and passive stretching. It's well-known for its countless health benefits, like improving your posture or relieving back pain.
---
Day 3
Eat Local Food at Kopi de Phuket (value: $2.91 - $4.23)
One of the Phuket restaurants that stands out is Kopi de Phuket, located in the Old Town's center adjacent to the Sino Imperial Hotel and near the Surin Circle Clock Tower. It's a lovely little cafe blending well with its Sino-colonial surroundings. Approach it, and you'll instantly notice the Phuket Old Town charm before stepping inside. Round Chinese paper lanterns and brickwork greet you outside, and a chandelier and vintage furnishings bring the old times back to life inside.
Kopi's menu furthers the feeling of locality. The TAGTHAi app on your phone lets you choose from three sets. If you like chicken curry with roti – sweet or salty pan-fried bread – book Set A. Other surefire winners are the café's signature recipe for iced milk or lemon tea, included in all three sets bookable in the app.
Wind Down on a Weekend Catamaran to Koh Hey's Banana Beach (value: $31.71 - $39.64)
Feel like a member of the jet set as you cruise from Phuket to Koh Hey aboard a catamaran, listening to chill-out music. The captain will slow down the boat as you get closer to Koh Hey, so you can take pictures of the crystal water glistening in the sun.
Jump into Banana Bay's green-tinted waters off the coast of Coral Island or lap up the sun on the deck – it's your call. Snorkeling in the turquoise water and staying on the boat with the ocean bubbling beneath the hull is equally appealing. Both daytime and sunset cruises are available – choose the latter to watch the sun sink orange behind the horizon.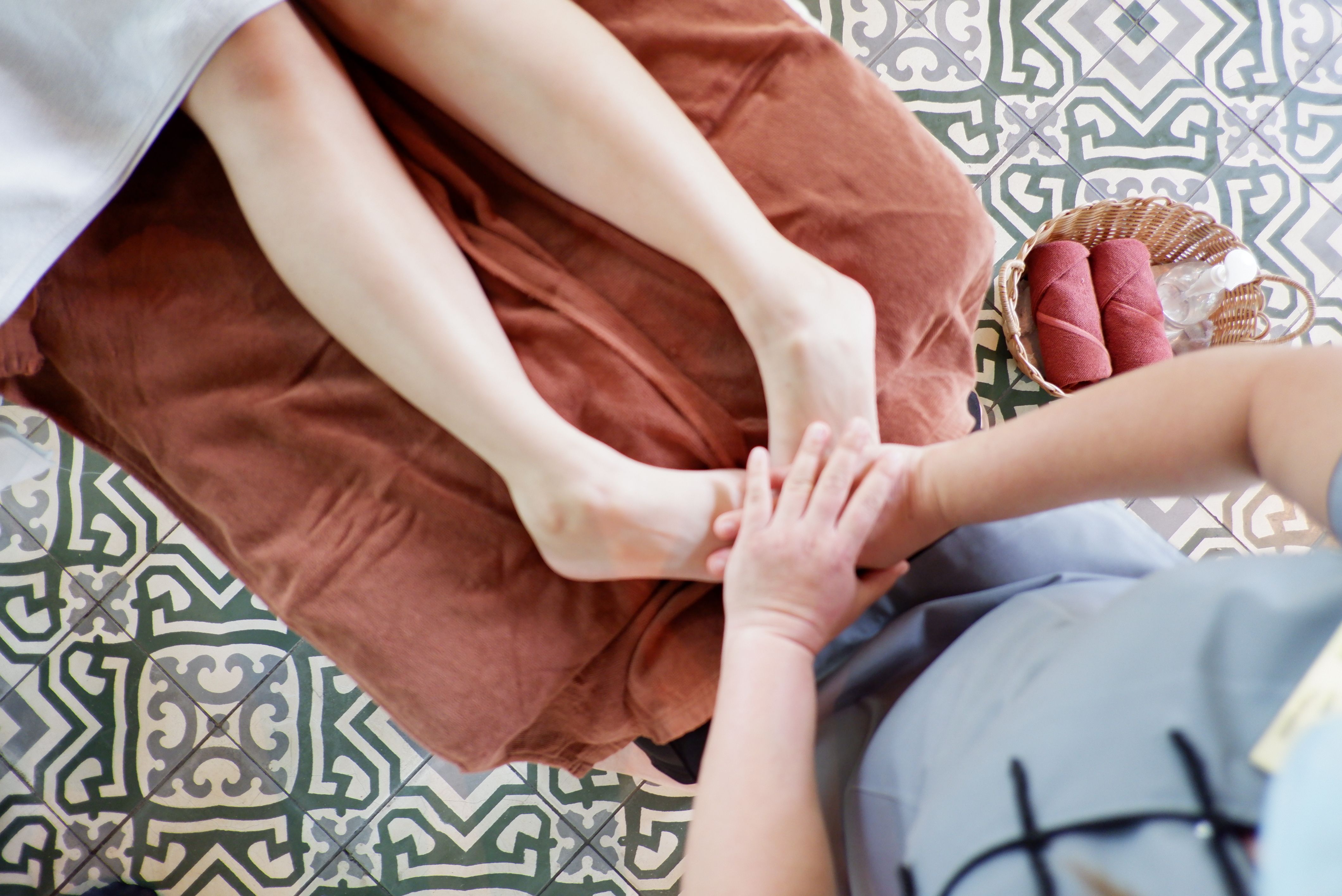 Pamper Yourself at The Raintree Spa (value: $31.71 - $39.64)
Centrally located in Phuket Town, yet a world away from the crowds, The Raintree Spa is a haven for relaxation-seekers. White frangipani scents drift on the breeze as you arrive, and giant Jamjuree trees, purple orchids and green, heart-shaped leaves welcome you before a therapist opens the door.
Private rooms with calming music and atmospheric lighting put you in a good mood, and foot massage rooms for a maximum of three people ensure it never gets noisy. TAGTHAi lets you choose from sets like aromatherapy with essential oils or two-hour Thai massages and foot reflexology. Herbal steam rooms and jacuzzi tubs are available, too.

Spending three days Phuket Itinerary with TAGTHAi is a wallet-friendly way to make the most of your time on Thailand's largest and most popular island. Enjoy!