Reasons to Visit the Monet & Friends Alive Art Exhibition Bangkok
Visit the Monet & Friends Alive Art Exhibition Bangkok Are you into art? Going to Bangkok? Then you have to visit the Monet & Friends Alive Art Exhibition Bangkok included in TAGTHAi's ONESIAM Pass.
02 November 2023
6 min read
Considered a key forerunner of modernism thanks to painting nature the way he perceived it, the French artist Claude Monet was a pioneer of impressionist painting. He and other painters keenly created a visual reality in their impressionist artworks, exploiting transient effects of color and light. Impressionism, an artistic movement that emerged in France in the 19th century, has since been lauded as one of the most influential styles in Western history. Art lovers can now admire Monet's brief brush strokes at the Monet & Friends Alive Art Exhibition Bangkok until January 7, 2024.
Dive into Monet's world with TAGTHAi's ONESIAM Pass. The pass includes the entrance fee for the art exhibition at ICONSIAM, an upscale shopping mall on the banks of the Chao Phraya River. While that location alone is worth visiting, here's what you need to know about the immersive art exhibition.
---
What to Expect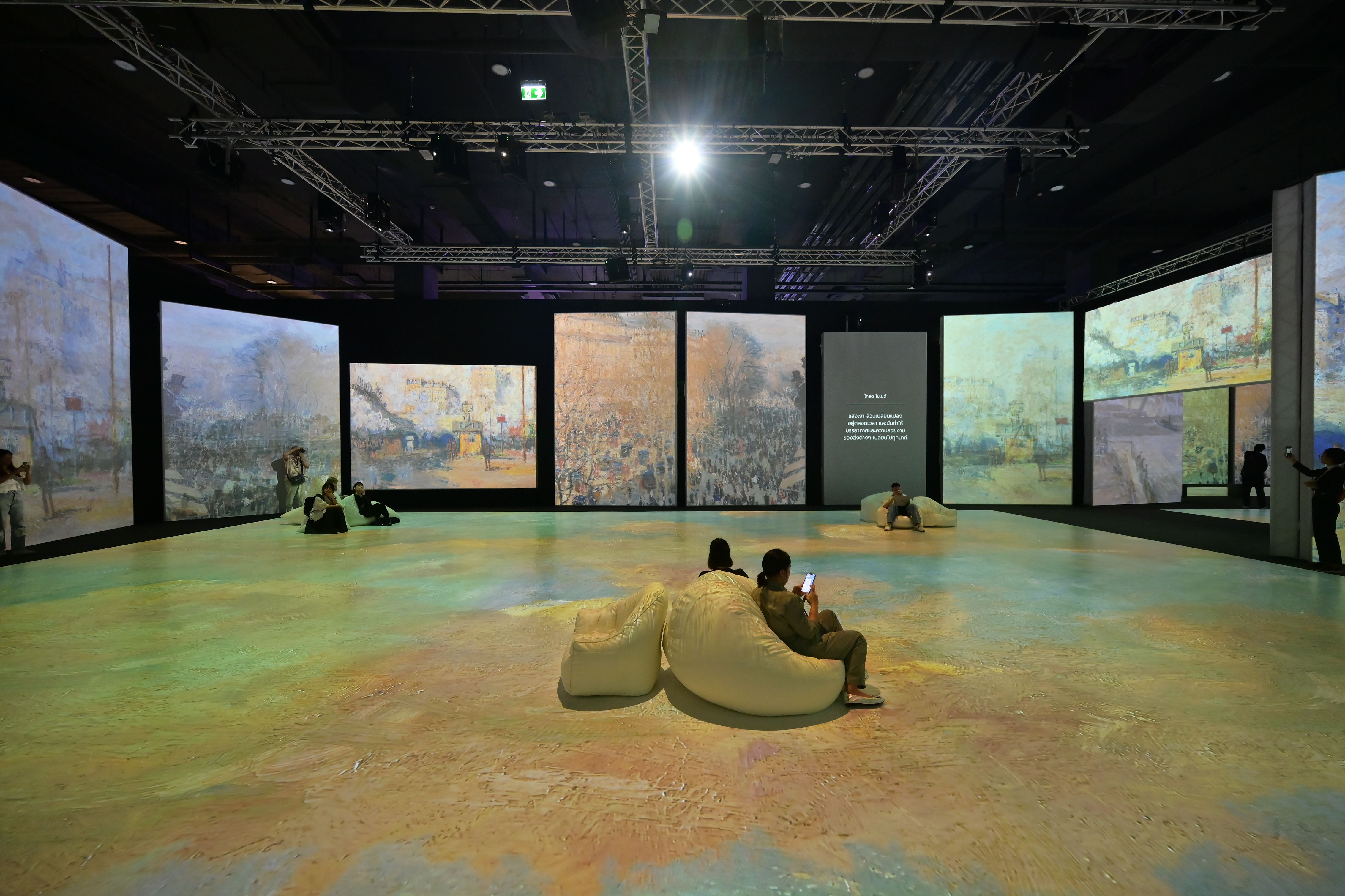 After the successful display of Van Gogh Alive earlier this year, the Monet Friends Alive exhibition opened on September 22. Unlike Art 101 Bangkok, which highlights the capital's street art, the Monet & Friends Alive exhibition takes visitors on a journey to the intriguing world of 19th-century French impressionism, weaving art, entertainment, and technology together.
One of the organizers of the Monet & Friends Alive art exhibition in Bangkok noted, "For one hour, you can see 3,000 artworks in large sizes and fresh colors, so I think that attracts the young generations."

Do you need a teaser of art in Bangkok? "Impression, Sunrise," "La Grenouillère," "The Garden at Sainte-Adresse," and the iconic "Water Lilies" series are some of the 3,500 digitized artworks making up the Monet & Friends Alive exhibition. Expect a multi-sensory experience that combines colors, shapes, and smells, plus a tune full of life and enthusiasm.
You can interact with Monet's artworks and those of 14 other impressionist painters like Pierre-Auguste Renoir, Camille Pissarro, Edouard Manet, and Paul Cézanne. Apart from the immersive gallery, the Water Lily Garden, and the Japanese bridge, there's also a themed art cafe in Bangkok.
---
Some Background on Impressionist Art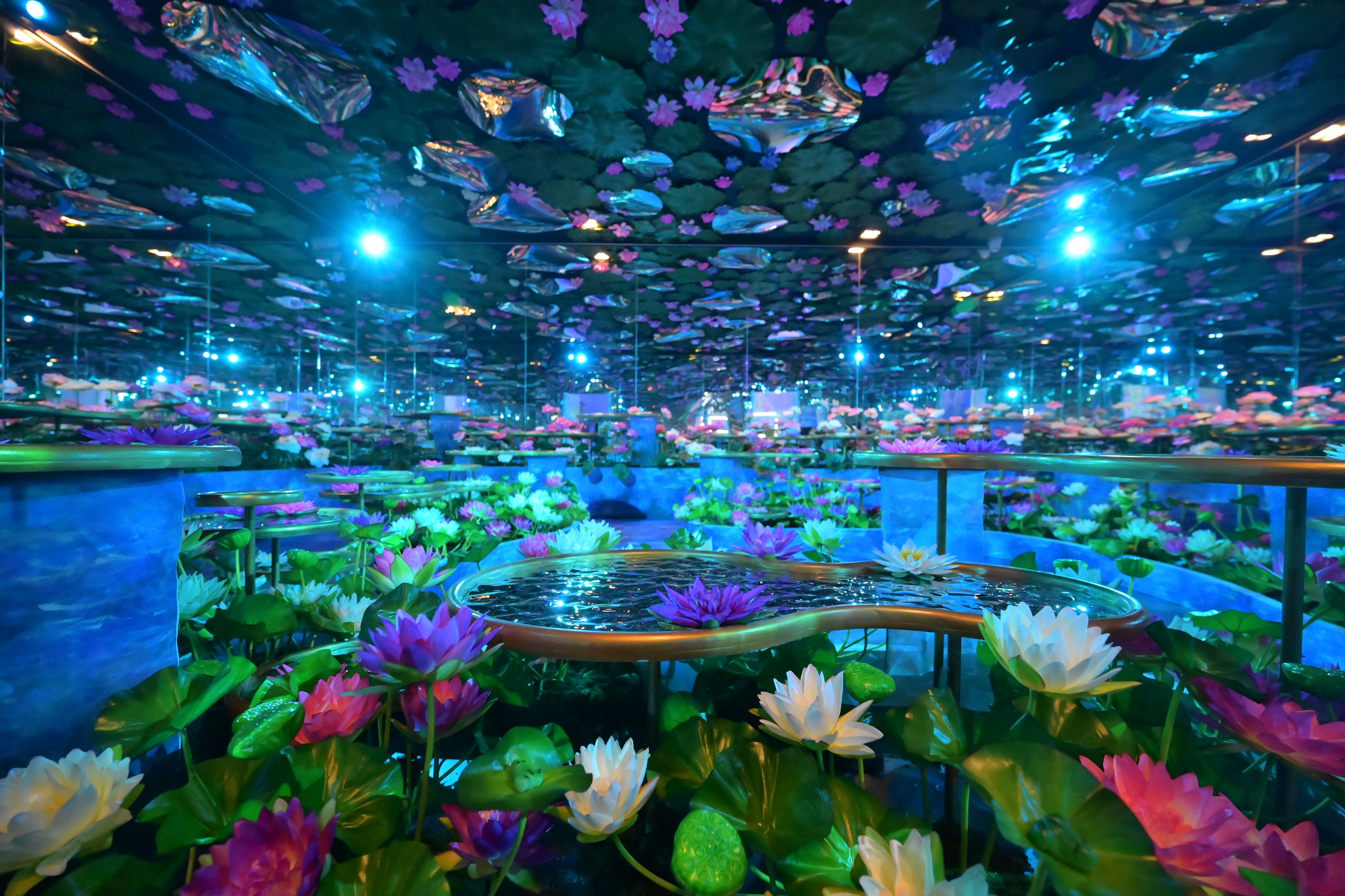 Open composition and thin, small, yet clear brush strokes focusing on the accurate depiction of light in changing qualities characterized the 19th-century art movement that impressionism is. It includes odd visual angles and movement as key elements of the human experience and perception.
Centering mainly on Parisian painters, the radical art movement started in the late 1800s. Impressionist artists welcomed modernity, rebelling against classical subject matter to produce artworks that mirrored the world surrounding them.
Painting outdoors, the artists all focused on capturing a specific moment in time, exploiting the light with colors rather than black lines. Monet's paintings portrayed Rouen Cathedral at different seasons and varying times of the day. His most famous painting of this series is 1894's Rouen Cathedral: The Façade at Sunset.
---
What the Monet & Friends Alive Art Exhibition Is Really Like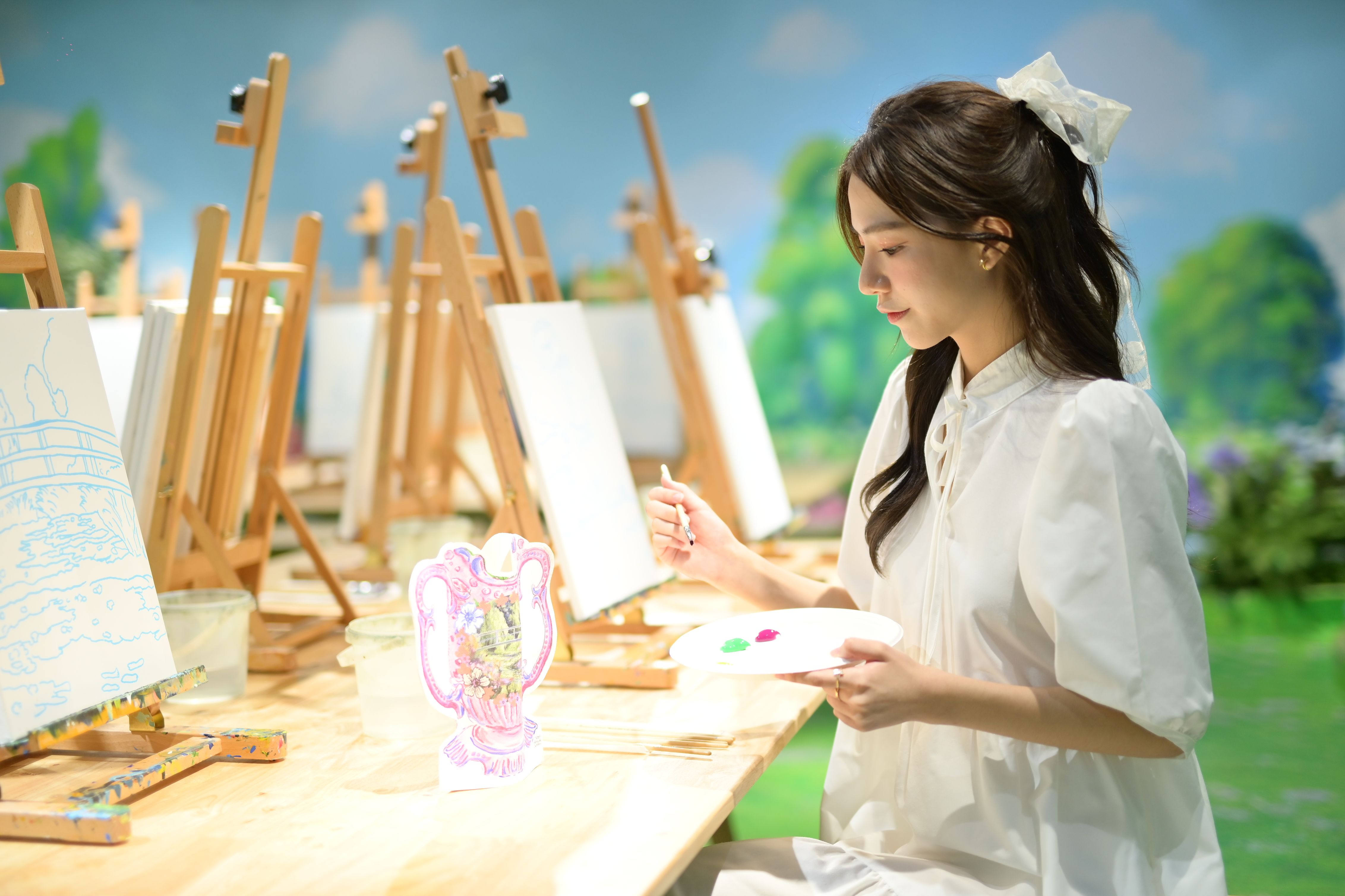 Visiting the Monet & Friends Alive exhibition, you step into bucolic sceneries of European Impressionism. On 4,000 square meters, you can discover the rustic charm of La Belle Époque, a period of high artistic and cultural development in France, Belgium, and other European countries. La Belle Époque had begun a few decades before World War I broke out.
Wandering through the art exhibition Bangkok, you can marvel at oil, acrylic, and watercolor paintings on canvas and paper as you stroll along the gallery, uncovering secrets of 19th-century Paris and London. Picture yourself amid Monet's water lilies. Just as spectacular as the water lilies are Renoir's sensual boat parties. Not to mention Degas' pointe shoes on massive screens that 40 wall projectors and 20-floor projectors illuminate, bringing everything to life in gigantic size.
Vibrant, synchronized soundtracks like Debussy's "Clair de Lune" add to the visual appeal, harking back to great hits of impressionist days. Other classics include Tchaikovsky's "Waltz of the Flowers" as well as the "Russian Dance." Captivating is also the immersive room. Here, you can learn more about French Impressionism history. A ton of archive material awaits, including landscapes, photographs, and texts of the painters, plus original posters from those days.
You can immerse yourself in interactive scenes true to the paintings' original landscapes and snap Insta-worthy pictures. Need an example? Monet's garden, flowers, and water lilies bring his "Japanese Bridge" to life. Located at the ICONSIAM shopping mall near many an art hotel in Bangkok, where you can get art supplies in Bangkok, Monet & Friends Alive was produced by Grande Experiences. Grande Experiences, which partnered with Live Impact Events, created the largest immersive Monet & Friends Alive experience in Southeast Asia to showcase a blend of entertainment and artistic wonder.
---
The Monet & Friends Alive Exhibition Is Included in the ONESIAM Pass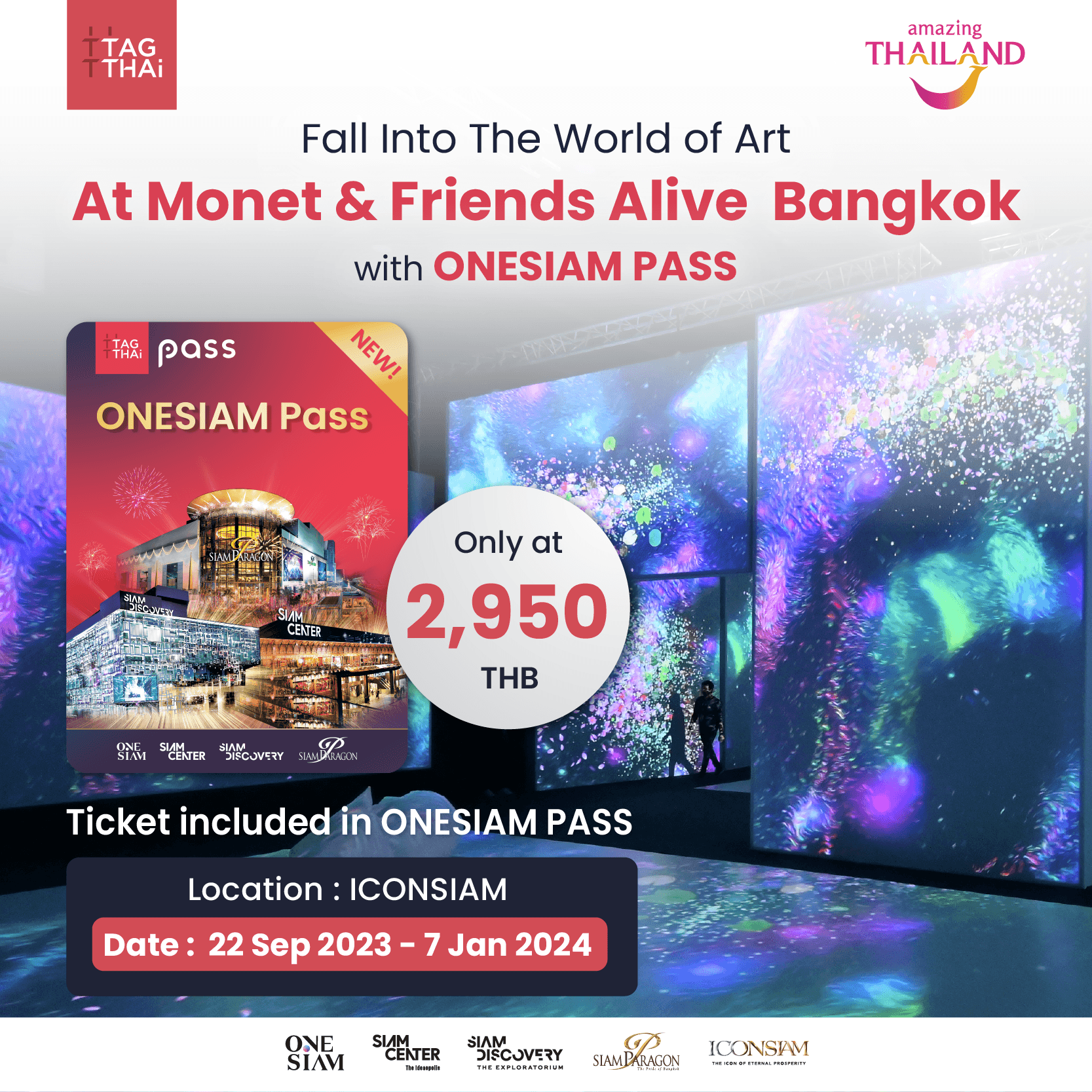 To admire the collection of 3,500 images and immerse yourself in the imagination of painters, you'd normally have to stump up $28. With TAGTHAi's new ONESIAM Pass, you don't have to pay extra. It's available for a flat fee of $86.41 and includes the art exhibition Bangkok and many other attractions like the ancient Rajadamnern Boxing Stadium.
Other benefits of TAGTHAi's City Pass in the shopping district of Siam Bangkok are exclusive services like luggage storage as part of the VIP Tourist Service, or the daily taxi assistance. That spares you the haggle when taxi drivers refuse to turn the meter on.
As an aside, you may find the huge shopping complexes of Siam Discovery, Siam Paragon, and Siam Center overwhelming, particularly if you're a first-time visitor to Thailand. Fret not. A VIP Personal Assistant that you have to book 24 hours in advance is also included in the ONESIAM Pass.
Last but by no means least, the City Pass also offers benefits at numerous beauty clinics, restaurants, and lifestyle stores. All these attractions cost you up to 70% more if you travel without TAGTHAi. The choice is yours. Now plan your trip and look forward to visiting the Monet & Friends Alive art exhibition in Bangkok and other top attractions in the Siam area.